Based on an article that first appeared at
With Christmas right around the corner, it's time to start thinking about gifts for your loved ones. Sometimes it can be difficult coming up with gift ideas for people, but what about your pets? They're family, too! They play with you, snuggle, make you laugh, and keep you happy. We can't forget about them at Christmas time!
The act of giving gifts to your pet has many benefits to them as well as to you the pet owner. The experience of shopping for a gift can be fun and entertaining, and the act of giving a gift to your dog or cat should make you feel happy and fulfilled. The benefits to your pet are obvious because you'll be providing them with things that ensure they maintain their health, keep them stimulated, and provide them safety.
In actuality, pets may be easier to shop for than humans. There are so many aspects to providing care for them to keep them happy, healthy, and safe. However, life is busy and you may not have discovered the spirit of Christmas yet this year. Or maybe you've already come up with a list of gifts for your pet so you can read this blog as a way of "checking it twice."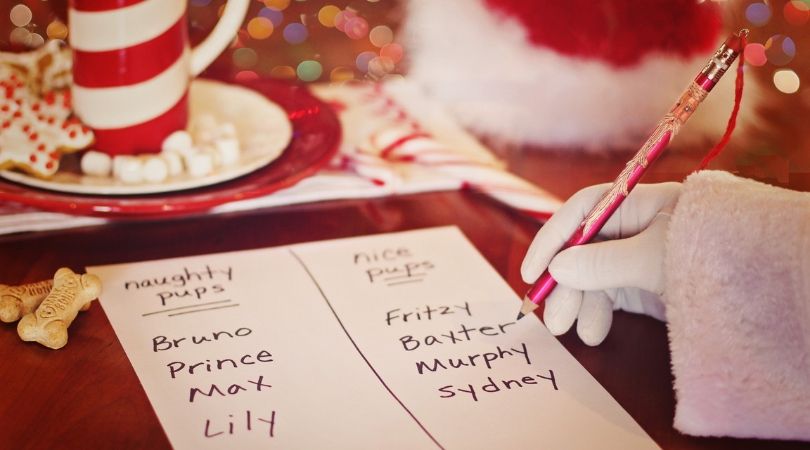 Whatever the case may be, we've compiled a list of items that are affordable and useful stocking stuffers to provide you some ideas and inspiration to give your furry loved ones this Christmas.
Fetch Toys
Keeping your pets mentally stimulated is an important aspect to keeping them happy and healthy. Boredom can cause stress and anxiety, so having toys on hand is a great way to prevent this. Fetch toys are especially good because they involve you in playtime and will strengthen the bond you have with your pet. When considering fetch toys, keep in mind those that are the appropriate size for your pet. Tennis balls work great for dogs. For cats, consider some catnip mice or smaller size balls with bells in them. Jingle bells, anyone?! And yes, it is possible to teach your cats to fetch!
Other Toys
In addition to fetch toys, there are plenty of other toys available for your dog or cat. A rope toy for your dog is a great way to bond with them in playtime. A new scratching post or pad for your cat may be in order.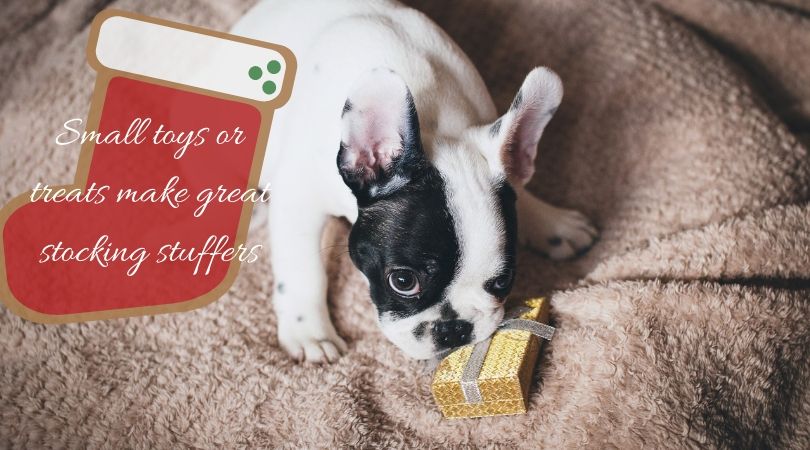 Treats
Treats are always a great gift for your pets. These are especially handy when doing obedience training to provide positive reinforcement. However, always keep in mind the total amount of food intake your pet is getting so as to not cause any weight issues. Another consideration when buying treats is to be aware of the ingredients if your pet has any food allergies. Fortunately there are a wide variety of treats available now that do not contain the common food allergens.
Grooming Tools
Grooming at home is not only another way of keeping your pet healthy, but it also provides them love and attention which makes them feel good. Certain breeds need regular grooming to keep their coat healthy. Tools needed include nail trimmers and a good quality brush or comb. Again, certain breeds may need a specific type of brush for their particular coat. You also need pet-specific shampoo for bath time. If home grooming presents a challenge with your pet, you may want to consider professional grooming.
Pet-Specific Toothpaste and Toothbrush
Dental care is one of the most important things that you can do for your pet because about 75% of dogs and cats over the age of four experience some level of periodontal disease. This has been linked to other health issues such as heart and kidney disease. Home care starts with brushing, but you can't use human toothpaste on your pets. You can't train your pets to spit, and human toothpaste contains ingredients that are not good for your pet, not to mention the taste of mint. Toothbrushes designed for pets have softer bristles and a longer handle to make the process easier than using a regular toothbrush. You may also consider getting some dental chews to help with your pet's dental care as well.
Clothes / Accessories
These items are more along the cute and fun side versus for health support. But fun is important too, and your pet will definitely enjoy the attention they receive by looking so cute. Bandanas, booties, shirts, and designer collars are all fun accessories to make your pet look good. Just be sure your pet is happy in any clothing you put on them. Also watch out for any chewing of the clothing they might do, and make sure there are no possible choking hazards.
Bedding
Maybe it's time to update your pet's bed if it's getting a little worn out. Or if the cushioning is still good, you could just refresh the bed with a nice, new cover. You may consider adding something to their bed such as a pillow or blanket to make it a little cozier. Again just make sure to avoid any chewing and potential choking.
New Leash / Safety Items
Christmas time might serve as a great reminder to check all of your pet's safety items to make sure they are not worn and are in good functioning condition. Is your pet's leash, harness, or Gentle Leader in need of replacing? Is their collar still sturdy and holding their ID tags? Are the ID tags legible and up to date with information? These are all important items for the safety of your pet while you're out with them, whether on a walk to the park, hike, or trip to the vet's office.
We hope you find this list helpful. As with any health-related topics with your pet, if you have any questions please contact us. We'd like to wish a very happy, healthy, and safe holiday season to you and your loved ones, both two and four-legged!